It's Not Just About Reaching the Summit, It's the Journey - Or What Has Business Learned From Sports?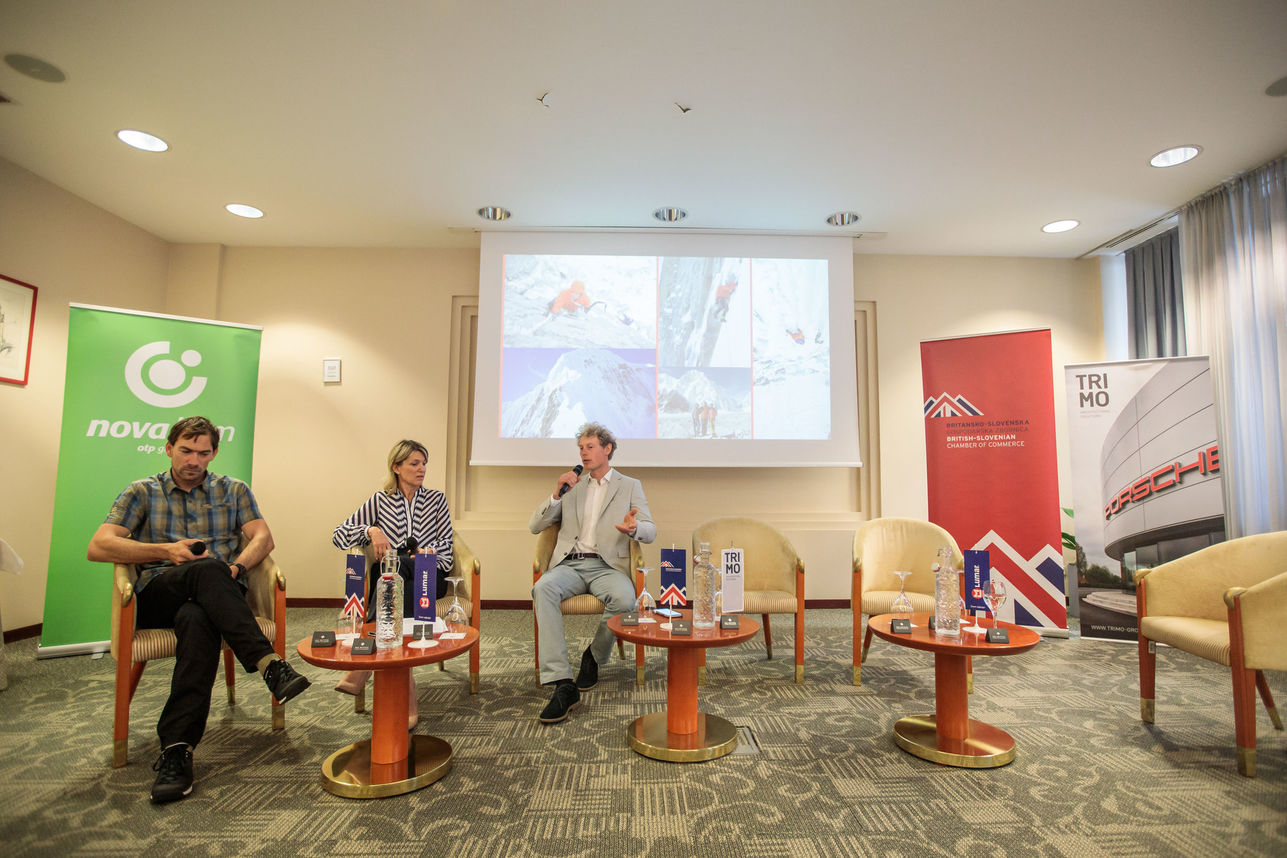 Ljubljana, 26 October 2023 - Recognising one's own abilities, perseverance and making thoughtful yet bold decisions are qualities that characterise both top athletes and successful managers, according to renowned British alpinist Tom Livingstone. Livingstone summed up these thoughts at the event "Tea with Reason: What Can Business Learn From Sports?", organised by the British-Slovenian Chamber of Commerce. The event was also attended by sports enthusiasts - managers of well-known Slovenian companies - who brought the values of sport to managing teams and making tough decisions in a business environment.
"It's not healthy to worry about making a mistake. I've fallen many times, but it's those experiences that have taught me that I can do better," said Tom Livingstone, known for his remarkable climbing expeditions from the Himalayas and Karakoram to Alaska, Patagonia and the Alps, in a talk with Barbara Uranjek, CEO of the British-Slovenian Chamber of Commerce.
"Good cooperation allows the team to rise up even in the most difficult moments; that's the charm of it all," said Livingstone, who in 2019 won the prestigious Piolet d'Or (Golden Ice Axe) with Slovenian climbers Aleš Česen and Luka Stražar for the first successful ascent of Pakistan's 7,145-metre peak of Látok I on the north side. Aleš Česen, who was also with us, added that "it was the good cooperation between the trio that made it possible, because they had much less to worry about, even when things went wrong."
"It's easy to get to the top of a mountain by helicopter, but it's not fun at all, it's not about shortcuts, it's about how you reach your destination," added Miro Cepec, COO of SKB Bank and thriatlon enthusiast, who took part in a panel discussion with Slovenian managers, about the parallels between climbing and the business. The importance of good cooperation in the business was also shared by the CEO of Trimo and dedicated boxer Božo Černila: "I have full trust and faith in my team at Trimo. With this, I take risks consciously, but the employees appreciate it because it is also the way they achieve what they could never have imagined possible."
"There are always work tasks that we don't enjoy or find unimportant. But when we find satisfaction in a higher purpose that drives us to do what we do, these tasks become important too," is one of the lessons Melanja Korošec, Director of Strategic Marketing at Marles Hiše Maribor and former youth world ski champion in telemark, has learnt from sport. Luka Vesnaver, President of the British-Slovenian Chamber of Commerce, Partner at ION Advisory and amateur skier, surfer, basketball player and tennis player, added about the lessons from sport: "Anyone who is very successful in sport is likely to be successful in their career. Hard work in both is what can bring you a lot in life."
"Climbing has taught me that ethics are also important. In business, we kind of forget about that. We only focus on results, but how we got there and how many sacrifices we made on the way to achieving those results is something we tend to forget. Unfortunately, sometimes you have to lose something and then gain it back through hard work in order to be able to respect it," summed up Marko Lukić, CEO of Lumar and former top-tier climber.
Simona Špilak, CEO of BOC Institute, who moderated the discussion, concluded the event by saying, "I have learned from today's guests that life in sport and business can be sweet and sour. You can win or you can learn, both are great ways to grow in life."
Photos from the event are available here.
Special thanks goes to our partners who made this event possible: BOC Institute, Nova KBM, Trimo, and Lumar.